Research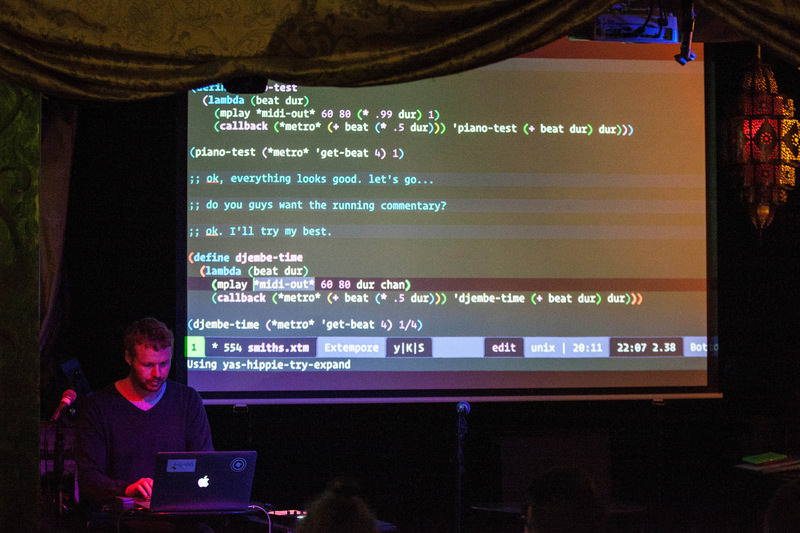 Research interests
I am a multidisciplinary researcher and Senior Lecturer in the Research School of Computer Science at the Australian National University. I'm interested in computational art & music, data visualisation, human-computer interaction, AI/machine learning (particularly in pursuit of creative ends) and the intersection of code, creativity and culture as those boundaries dissolve in the modern world. I'm the director of the code/creativity/culture studio at the ANU Research School of Computer Science.
I am a livecoder, and have performed at both local and international arts festivals—you can find recordings of some of my sets on my livecoding page. I'm the vice president of the Australasian Computer Music Association (ACMA)1. I'm also one of the inaugural ANU Reimagine Fellows, part of a $300m+ investment from the ANU charged with re-thinking (and re-doing) what it is to be a computer scientist in the 21st century.
I love building things, and one thing I'm particularly excited about is the potential of liveness (real-time human-in-the-loop interactivity) in programming tools and workflows. I have made significant open-source code contributions to the international research and livecoding communities, especially through my work on Extempore: the state-of-the-art in livecoding languages.
Peer-reviewed publications
2020 | 2019 | 2018 | 2017 | 2016 | 2015 | 2014 | 2013 | 2012 | 2011 | 2010 | 2009 | 2007
2020
2019
2018
2017
2016
2015
2014
2013
2012
2011
2010
2009
2007
Curated/invited livecoding performances
2020 | 2019 | 2018 | 2017 | 2015 | 2014 | 2013 | 2009 | 2008
2020
2019
2018
2017
2015
2014
2013
2009
2008