Research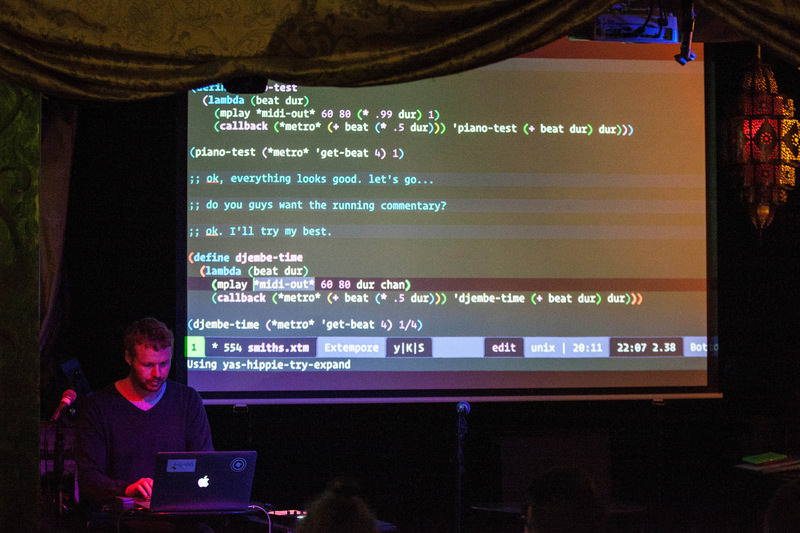 Research interests
I am an internationally-recognised interdisciplinary scholar and electronic/computer music artist, and currently the Educational Experiences lead (Senior Lecturer) in the School of Cybernetics at the Australian National University—Australia's top-ranked university (#31 QS world ranking 2021). I'm an expert in computational art & music, AI/machine learning, cybernetics, data vis/data science and user experience (UX) design.
I am the founder and director of the code/creativity/culture (c/c/c) studio (home of the ANU Laptop Ensemble), an interdisciplinary research and teaching collective which specialises in making things which explore the way that code (software), creativity (especially the arts) and culture (life) intersect in the modern world.
As a livecoding artist I have performed at international arts festivals, including the International Symposium on Electronic Art (ISEA) and the International Conference on Live Coding (ICLC). I'm the Vice President of the Australasian Computer Music Association (ACMA).
I am a maker of open-source software tools for music, creative code, data analysis/visualisation, and more. I'm one half of the core development team for the Extempore programming environment
for musical livecoding. Extempore's users are a worldwide community of programmers, artists, musicians, and data visualisation practitioners. I have more than 10 years' experience as an OSS community manager, technical writer, software engineer and creative code outreach ambassador.
Peer-reviewed publications
2022 | 2021 | 2020 | 2019 | 2018 | 2017 | 2016 | 2015 | 2014 | 2013 | 2012 | 2011 | 2010 | 2009 | 2007
2022
2021
2020
2019
2018
2017
2016
2015
2014
2013
2012
2011
2010
2009
2007
Curated/invited livecoding performances
2021 | 2020 | 2019 | 2018 | 2017 | 2015 | 2014 | 2013 | 2009 | 2008
2021
2020
2019
2018
2017
2015
2014
2013
2009
2008